Upon opening the package, the scent is a tantalizing precursor to the delicious flavour you will find.
Our Natural Wild Pacific Shelf-Stable Salmon, is hand salted, smoked and then cooked in your foil pouch under pressure. Made with all natural ingredients like 100% Pure Canadian Maple Syrup! It's delicious as an appetizer, in pasta, or makes a great paté. Requires no refrigeration until opened.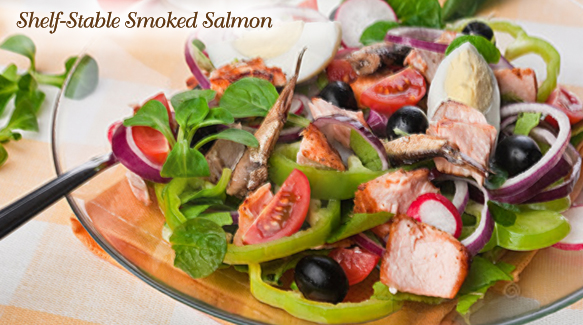 The Salmon was lovely... and so was the wine.
- John L. / Melaque, Mexico
www.vacationinmexico.com
(Smoked Sockeye Salmon)

Bring on the smoke. Love it!
- Alexandra G. / Vancouver, Canada
(Smoked Sockeye Salmon)
Flavorful smokey flavor. Not too oily. Nice and firm, yet flakey.
- Mike V. / Munich Germany
(Smoked Sockeye Salmon)
Love the sweet syrupy taste!
- Jennifer L. / Pasay City, Phillippines
(Maple Smoked Salmon)
Very nice crunch with cucumber.
- Leta J. / Calgary, Canada
(Salmon Paté)