The delicious and bold flavours of Wild Smoked Salmon are now available to take on the run.
Our salmon jerky is made from Wild Pacific Salmon, caught in the pristine waters of British Columbia. It's delicious taste, beautiful appearance and uniqueness, make it a perfect snack on the go. The result is a nutritious snack that's a real adventure in taste.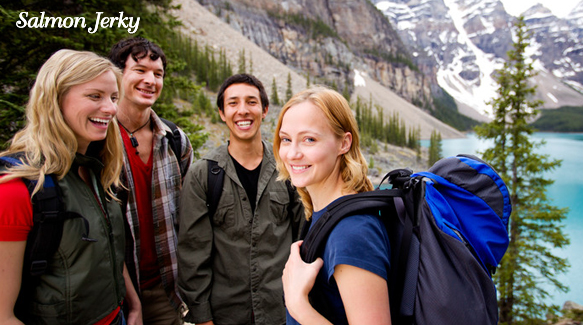 3 of these back to back and you don't need matches to set up a fire. :-)
- Lea G. / Detva, Slovakia
(Peppered Salmon Jerky)

Very Flavourful, enjoyable.
- Rosangela G. / Burnaby Canada
(Salmon Jerky)
Taste is great, great product.
- Wyan, X. / Changzhou, China
(Salmon Jerky)
Really enjoyed the hot salmon jerky! The flavor was great and easy to chew, great for kids!
- Jeff L. / Concord, Ontario, Canada
(Peppered Salmon Jerky)
Delicious, firm, peppery and flavourful.
- Viktoria K. / Budapest, Hungary
(Beef Jerky)
Good jerky.
- John L. / Montenegro
(Peppered Beef Jerky)