Premium No. 1 Wild Pacific Ocean Run Sockeye Salmon is the ultimate in smoked salmon.
Carefully cured, lightly salted and slowly cold smoked for a rich distinctive flavour. Fully trimmed, boneless and thinly sliced for attractive and easy serving, customers praise its buttery flavour and silky texture.
Great for brunch, dinner or that special gathering.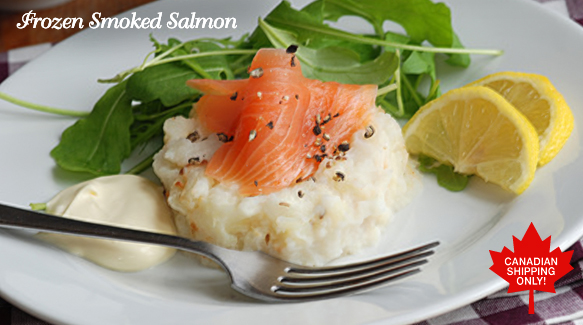 Muy delicioso!
(Very Delicious)
- Dr Rosa V. / Melaque, Mexico
(Smoked Sockeye Salmon)

Oh, I love it!
- Herta L. / Klemkenhof, Germany
(Smoked Sockeye Salmon)
The cold smoked sockeye salmon is delicious and flavourful, the texture was moist and tender.
- Lynda V. / Cuenca, Ecuador
(Sliced Cold Smoked Sockeye Salmon)
Liked it a lot, enjoyable.
- Angela P. / Catania, Sicily, Italy
(Sliced Cold Smoked Sockeye Salmon)
Absolutely spectacular product!
- Ali K. / Dubai, United Arab Emirates
(Sweet Double Smoked Sockeye Strips)
I really love the peppery kick!!
- Fiona D. / Vancouver, Canada
(Indian Candy)
Temptations
Please enjoy these other fine gourmet selections...
Maple Smoked Salmon
6-Pack Wild Pacific Salmon Oil 1000 mg
Questions?
Did You Know?
Frozen Smoked Wild Salmon maintains it's quality up to 1 year if properly frozen in it's original packaging. Once open and stored in the fridge, your fish should be enjoyed within 3 days.